Our Top Local Manufacturers share what they are doing to be successful post COVID-19
Article by apicsie, May 22, 2020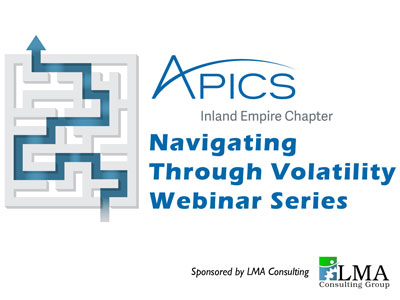 Join us on May 26, 2020 – 12:00 noon PST
Navigating Through Volatility Webinar
Manufacturing Panel Discussion:
Successfully Emerging Post COVID-19
A panel of manufacturing experts will discuss manufacturing as it relates to COVID-19. Although we'll talk about how manufacturers are navigating COVID-19, we will focus attention on successfully emerging as well as how to succeed post COVID-19. There can be significant opportunity for agile and innovative manufacturers, and we'll hear stories about what local manufacturers' resilience.

About the Speakers:

Lisa Anderson is president of LMA Consulting Group and APICS Inland Empire. She is an expert in manufacturing strategy and end-to-end supply chain and partners with clients to create a superior customer experience, increase profitability and accelerate cash flow.

Jon Armstrong is owner and VP of Operations for Do It American, a manufacturer created with the goal to provide good jobs, to make great products, and to prove that it can be "Made in America. Do It American also won the 2018 MCIE Innovation Award for Human Capital.

Jim Gitney is the CEO of Group50 Consulting, and a member of the the board of advisers for Thinaër. He has over 30 years' experience in world class companies ranging from start-ups to Fortune 50 companies including GE, Black & Decker, and Pankl Aerospace.

Roy Paulson is president of Paulson Manufacturing, a manufacturer of safety equipment and Board Member of National Association of Manufacturers, will share insights his experience as well as from Washington D.C.

This is a no charge event, but you must register.

Tags: COVID-19, Jim Gitney, Jon Armstrong, Lisa Anderson, manufacturing panel, Roy Paulson, supply chain