May 4, 2017 3:45 pm
Comments Off

on APICS-IE Symposium Panel to Discuss Disruptive Innovations in Logistics May 6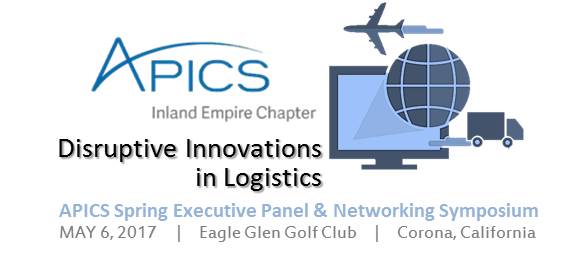 The Inland Empire Chapter of APICS, the leading association for supply chain and operations professionals, will be hosting a meeting on global supply chain trends and strategies at its Disruptive Innovations in Logistics Spring Executive Panel & Networking Symposium on May 6 in Corona, Calif. Expert panelists including Dr. Genevieve Giuliano, Director of the METRANS, Mark Hirzel, Customs Broker for A.N. Deringer, Inc., Lupe Valdez, Director of Public Affairs for Union Pacific Railroad, Heidi Chance, Division Manager at Yamaha Motor Corporation, USA, and Steve Finley, Owner at Re-Transportation, Inc. Experts on the panel will share with attendees what they see as the future supply chain disruptions and innovations and how they should prepare for these pivotal changes. Attendees are encouraged to network and benchmark with area companies and build contacts within the manufacturing and distribution community to help them build their careers.
"We have a perfect intersection of panel expertise and the support of our sponsors to truly deliver an exceptional symposium to our APICS-IE members and guests," says Lisa Anderson, President of APICS-IE and LMA Consulting Group. "We are fortunate to have a community of top notch professionals, including speakers, sponsors and members, committed to helping attendees gain value so that they walk away with strategies and innovative ideas to lead their companies and functions, provide valuable input on key initiatives and develop their personal careers. Gaining a competitive edge in the global supply chain requires a team approach!"
Sponsors this year include Arbela Technologies, Manufacturing Executive Institute and Compete Consulting Group. Event supporters provide additional value to attendees serving as a resource and advocates of this symposium's focus on 'Disruptive Innovations in Global Supply Chain'. Compete Consulting Group values the community of experts and resources that the Symposium will bring together to help manufacturers and distributors stay on top of disruptive innovations. "Like APICS-IE does for its membership by providing value-add programming and resources, our business is to help our clients better navigate changes with Fed Ex and UPS such as the recent rate hikes related to dimensional weight and the impact of the Amazon Effect which we address by ensuring our clients have the best rate structures and shipping intelligence capabilities in place," notes Keith Durna, Vice President of Compete Consulting.
"Market and customer exposure to better services and innovative ideas by market leaders like Amazon is driving digitization of the supply chain processes by smaller distributors. Meeting these expectations require analysis and predicting customer behavior, sales and marketing trends, and all the way to the effectiveness of the operations," said Nima Bakhtiary, president and CEO of Arbela Technologies. "As part of the APICS-IE Symposium, we look forward to connecting with top supply chain professionals and talking about how end-to-end Solutions like Microsoft Dynamics 365 and disruptive innovations like predictive analysis can help manufacturers and distributors better address their customers' demands."
The APICS-IE Executive Panel & Networking Symposiums draws attendees from all over Southern California. Held twice yearly, platinum sponsor Manufacturing Executive Institute actively promotes attendance at the Symposium. "We support APICS-IE in providing opportunities for our members to learn from experts on topics like global growth and supply chain," states Maggie Watson, Manufacturing Executive Institute. "We are proud to sponsor APICS-IE as we offer complimentary executive training programs and are dedicated to bringing relevant knowledge to individuals who are interested in making dramatic improvements in their manufacturing and distribution companies."
The APICS-IE Spring Symposium: Disruptive Innovations in Logistics will be held Saturday, May 6, 2017 at the Eagle Glen Golf Club in Corona, Calif. Fees to attend the event from 8:00 AM to 11:30 AM are $20 for members, $25 for non-members and students are free. Breakfast buffet is included. Register online or cut and paste this link into your browser: https://events.r20.constantcontact.com/register/eventReg?oeidk=a07edo6z6ik0657ae8c&oseq=&c=&ch=