March 11, 2021 5:37 pm
Comments Off

on APICS Webinar-Creating Resiliency in 2021: Pac Rim/North America Perspectives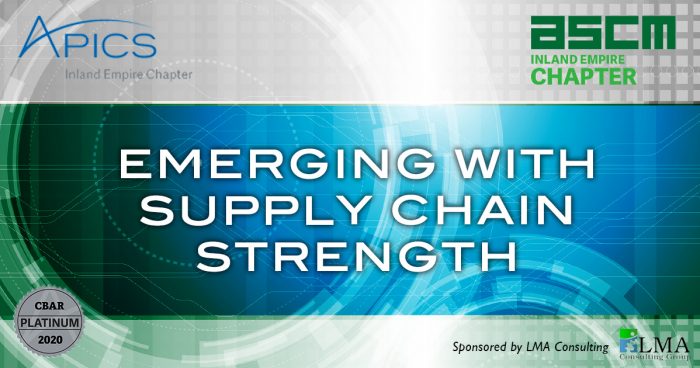 Emerging with Supply Chain Strength Webinar
Creating Resiliency in 2021:
Pac Rim/North America Perspectives
Thursday, March 18th @ 3pm PT
Resiliency has emerged as a cornerstone to emerging successfully from the pandemic and essential to post-COVID success.
As executives re-evaluate supply chain collaborations and partnerships, they will be thinking about supply chain strategy and partnerships. We have assembled expert manufacturing and supply chain thought leaders from around the globe to discuss and debate these topics.
With our 140 years of consulting experience supplementing over 190 years of management experience in Manufacturing, Logistics, Supply Chain, Technology, Sustainability, and more, our global thought leaders will explore whether the processes of reshoring and nearshoring could add value to your business and enhance your customer experience, create further disruption, and cost, or result in other challenges and opportunities and which supply chain relationships will be key in this ongoing reconfiguration.
The Pac Rim / North America Panel
Lisa Anderson, Moderator

Claremont, CA

David Ogilvie, Pac Rim

Brisbane, Australia
Evan Bulmer, Pac Rim

Grange SA, Australia

Diane Garcia

Portland, Oregon
The Society for the Advancement of Consulting (SAC) is the premier association for independent consulting professionals who subscribe to an industry code of ethics and provide significant consulting results among their clients. Founded by Million Dollar Consulting guru Alan Weiss in 2003, SAC offers a series of in-person and online programs to help consultants share best practices and learn from industry experts and thought leaders in the business world. SAC today has members in 40 countries around the world.