September 2, 2021 10:55 pm
Comments Off

on CLTD Prep Classes Saturdays Starting in Sept – Registration Closing Soon
APICS Certified in Logistics, Transportation and Distribution Credential Program
CLTD Prep Classes on Saturdays
Registration Closing Soon
What?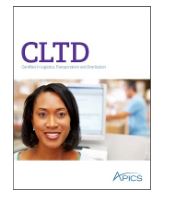 We are excited about our prep classes starting soon for the prestigious APICS Certification "CLTD" (Certified in Logistics, Transportation & Distribution). Logistics has become even more critical during the pandemic. Those companies and supply chain leaders that get ahead of this curve are far more likely to be successful post pandemic.
The CLTD program sets the standard for logistics certification. It includes topics such as forecasting, warehousing, transportation, international trade and much more. As a CLTD designee, you will stand out from your peers, and demonstrate a commitment to advancing both your career and your company's operations.
When ?
Conveniently held virtually on Saturdays from 8:00 am to 11 am.
Classes start on Saturday Sept 11, 2021 to Dec 18th, 2021 (skipping Thanksgiving weekend)
BONUS exam prep classes included
Where?
Virtual via Zoom